From Stavanger towards
the Big Bang
Research on the dynamics of strongly
correlated quantum systems
Select Research Highlights
2022
2021
2020
2019
pre 2019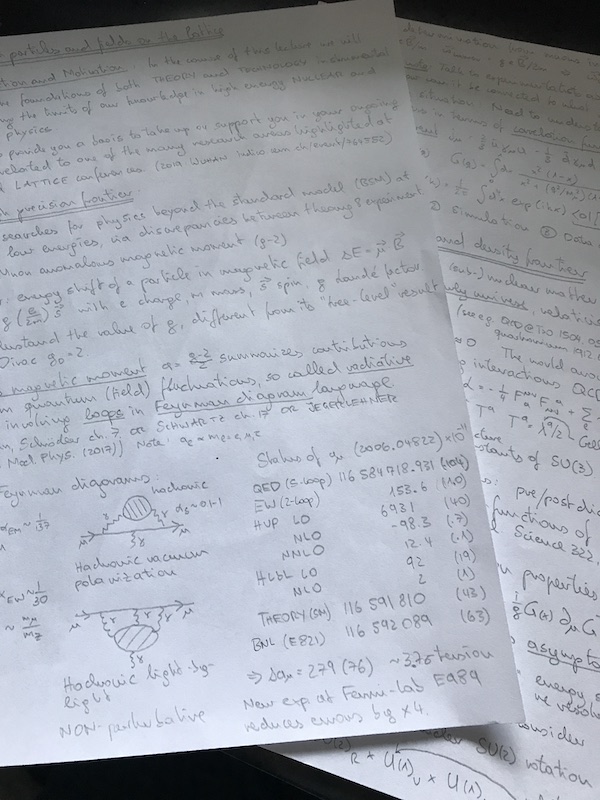 Quantum Particles and Fields on the Lattice
Many exciting and challenging questions remain open in contemporary theoretical physics. Two examples are the origin and underlying processes of high temperature superconductivity and the material properties of nuclear matter under conditions close to the Big Bang or in the interior of dense astrophysical objects, such as neutron stars. Both lines of inquiry relate to quantum systems, which exhibit strong correlations and in turn defy a treatment with the otherwise well-established methods of perturbation theory or other approximate techniques, such as mean-field theory. It is in these strongly correlated quantum systems that numerical simulations by means of lattice regularized field theory have made important contributions. In this lecture we set out to explore the basics of lattice field theory both from a theoretical and practical side, preparing you for and supporting you in your own independent research in the field. In order to access such an advanced topic we will start from a recap of statistical physics and spin models, continue by considering the simulation of few-body quantum systems and classical field theory, before embarking on the path towards understanding quantum field theory in the lattice regularization.
Learning Outcomes
I feel confident to discuss central concepts of statistical physics using a simple spin model.
I easily recall challenges in discretising common partial differential equations arising in physics.
I have a basic theoretical and practical understanding of Monte-Carlo methods to evaluate highly dimensional integrals.
I see no difficulty in explaining the basic concepts of lattice regularised field theory using scalar fields as an example.
I have a basic understanding of the concept of renormalization and am aware of its application in lattice field theory and spin models.
I have gained a first look into the structure and principles underlying lattice gauge theory as well as fermions on the lattice.
I feel excited and empowered to study real-world problems that I encounter in my master or PhD thesis work using lattice field theory methods.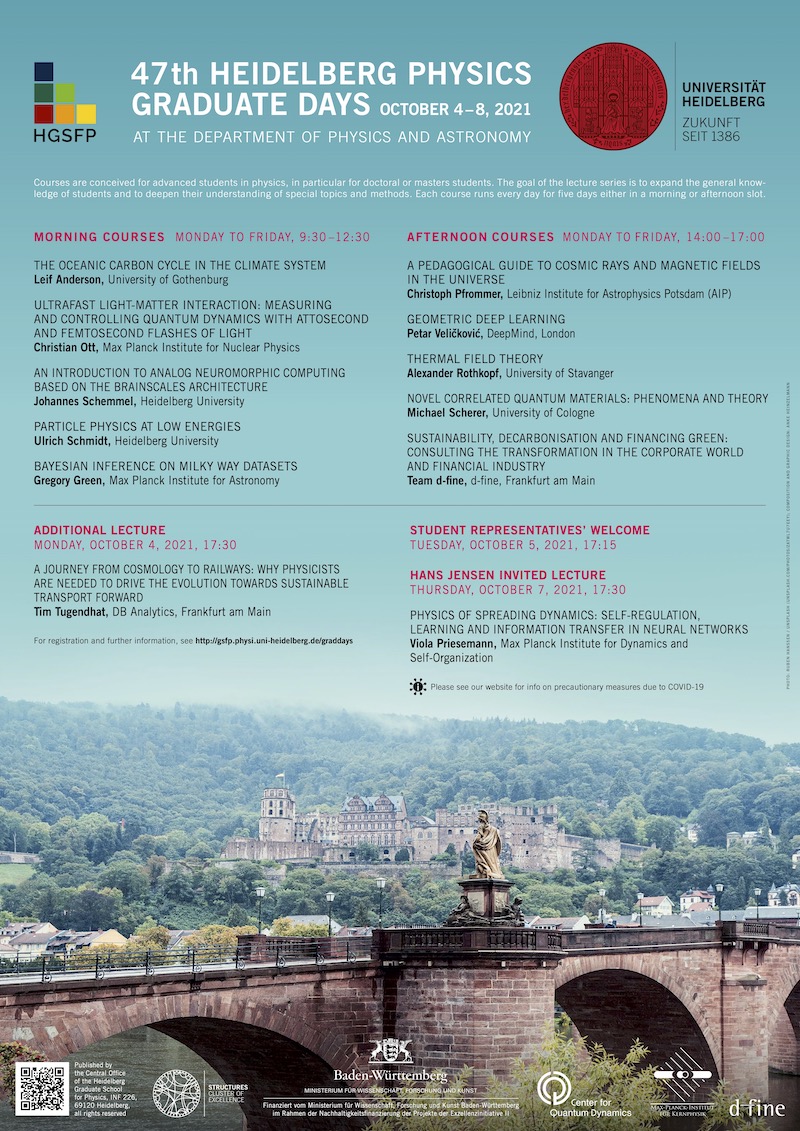 Thermal field theory lies at the heart of many phenomena studied in frontier experiments, ranging from the production of the quark-gluon plasma in relativistic heavy-ion collisions to understanding the phases in ultracold quantum gases and the design of materials capable of high-temperature superconductivity. Field theory in thermal equilibrium, while being an idealized concept, offers valuable insight into phenomenologically relevant static properties of quantum systems, as well as their real-time dynamics, all affected by the presence of the heat bath environment. Last but not least it provides the base-line from which to embark on the study and characterization of out-of-equilibrium phenomena.

Thermal fluctuations are not only able to generate macroscopic pressure in a quantum system but may lead to a characteristic modification of the carriers of interactions, endowing them with a thermal mass, referred to as Debye or screening mass. In this lecture we will explore the basics of thermal field theory, working our way from scalar fields to gauge theory, exploring how to theoretically implement the effects of thermal fluctuations and how to concretely compute relevant system properties with analytic and numeric methods.
Learning Outcomes
I can identify different research fields in which thermal field theory is of relevance.
I gained a first, both conceptual and computational, insight into thermal field theory formulated in terms of Path Integrals in Euclidean time.
I can connect my knowledge of vacuum Feynman diagrams to the finite temnperature setting and feel confident to compute the pressure of scalar field theory to lowest order in the coupling.
I have gained a first look at Monte-Carlo methods used to evaluate highly dimensional integrals.
I acquainted myself with the state-of-the-art strategy to compute the pressure from lattice QCD simulations using original literature [link to Nucl.Phys.B 205 4 545 (1982)].
I feel confident to continue studies in thermal field theory and look forward to identifying real-world problems in my master or PhD thesis that can benefit from this formalism.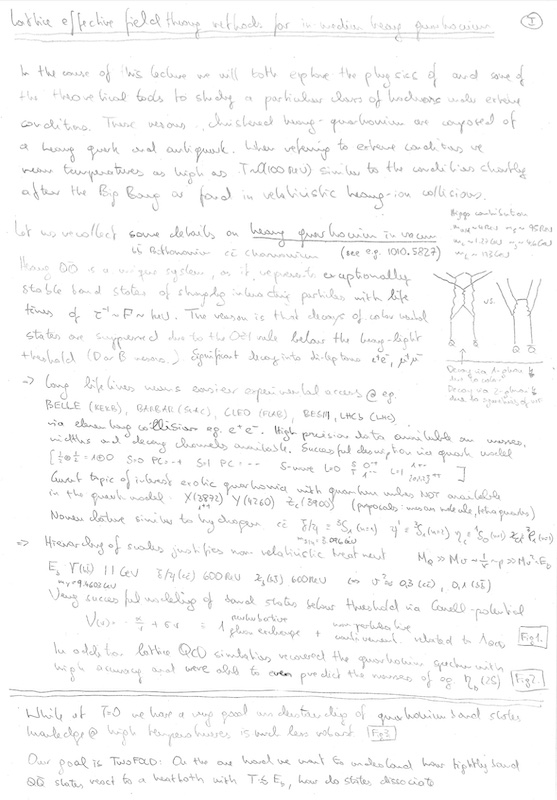 Lattice Effective Field Theory Methods for In-Medium Heavy Quarkonium
These summer school lectures intend to introduce students to two effective field theories NRQCD and pNRQCD used in current research on in-medium heavy quarkonium. One of the four lectures contains an in-depth description of the Bayesian approach to spectral function reconstruction that is central to understanding in-medium modification of hadrons.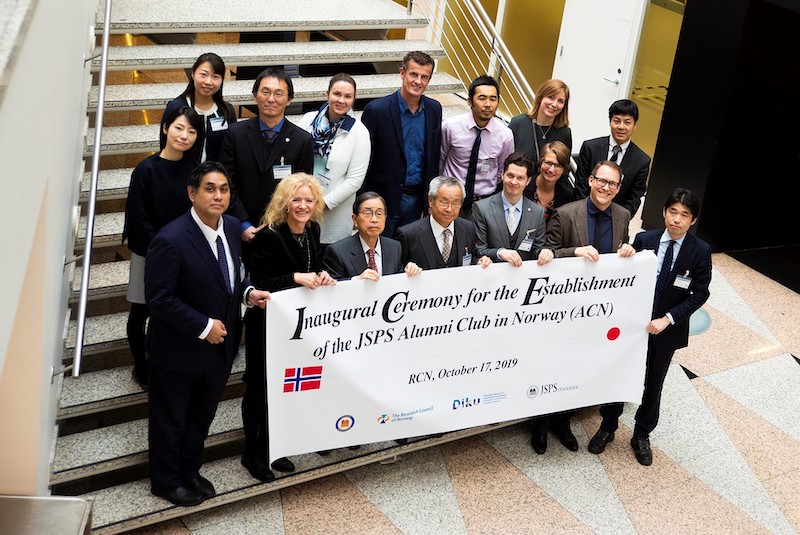 The JSPS Alumni Club Norway (ACN)
The JSPS Alumni Club in Norway (ACN) was established in 2019 in collaboration with the JSPS Stockholm Office and aims at promoting exchange between researchers in Norway and Japan. I am a founding board member of the club and have organized a very well received club seminar in 2019 on the topoic of
Science-based innovation
.
In 2021 I am organizing a
JSPS ACN virtual social event
on April 15th to rekindle the networking activities of our club using the wonder.me platform.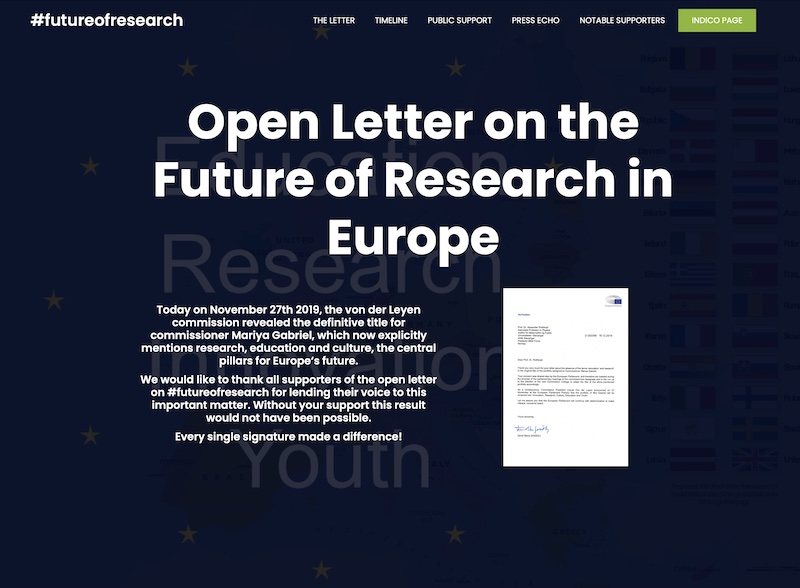 The #futureofresearch open letter campaign
In September 2019, the von der Leyen commission announced that the portfolio of commissioner Mariya Gabriel will not contain the terms research and education. This decision foreshadowed possible budget cuts to research and education and significantly weakened commissioner Mariya Gabriel's position in negotiating research funding in the future EU budget. As reaction, I initiated and together with several colleagues carried out a signature campaign to convince the European parliament to demand from the commission to reinstate the terms education and research in the portfolio title. Our campaign collected a record number of 13.000 signatures from researchers all over Europe, including 19 Nobel prize laureates and a wealth of research organizations and played an important role in the decision of the von der Leyen commission to ultimately reinstate the terms research and education in Mariya Gabriel's portfolio title on November 27th 2019.